The world of DockATot
welcome to
the world of DockATot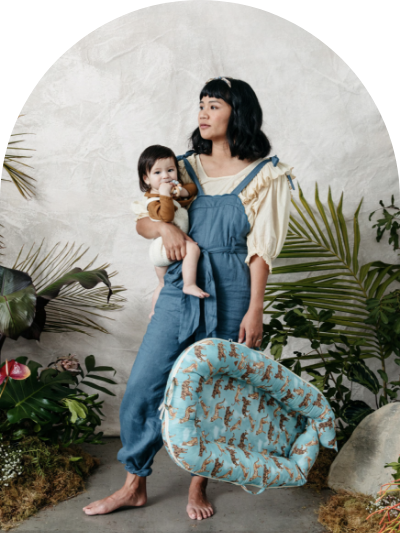 Your home should be a reflection of your style.
We believe that becoming a parent does not mean you have to compromise on design and aesthetics. When children enter the home, it is more important than ever to surround yourself with items you love and create an environment
that inspires the mind and delights the senses.
Architecture, fashion, travel, history and whimsy are our muses. If you're ready to let your imagination run wild and your heart sing, you have come to the right place.
Our Story
Born and bred in Europe, we take a handcrafted, artisanal approach to our work. Rooted in Scandinavian design, DockATot products are multi-functioning, modern and ultra-stylish. We believe you should not have to compromise on design and aesthetics when they become
parents.
a note from the founder
"My family is everything to me. Yet when I became a mom, I was unable to find products that spoke to my design aesthetic and were at the same time functional and safe. I was inspired to create DockATot to fill a void in the juvenile market. Inspired by how families play, relax, travel, and bond, each product is both useful and special. Every material and detail in our products are carefully designed and sourced using premium textiles to ensure high quality, comfort and convenience. Love and luxury have been exhaustively incorporated in the design process, with my own children in mind."
– Lisa Furuland Kotsianis
01
We believe in integrating functionality into your style & aesthetics.
DockATot products are inspired by the practical needs and the design preferences of modern parents. We look beyond nursery and juvenile design trends to inform the different styles and products we create. Our products are made to be used around the house and complement even the chicest home décor styles. We seamlessly merge fashion and function.
02
We believe in attention to details.
Our products are made in Europe and carefully handled by our small team of artisans, who pride themselves on craftmanship and quality. Materials sourced for our products have passed the strict Okeo-Tex 100 Standard certification to ensure they are free of any harmful substances. We are fully committed that the safety and comfort of your family will always be our top priority.
03
We believe in long-lasting essentials.
We believe there's value in investing in well-designed pieces that will grow with your family. We believe in exquisite craftsmanship and the preservation of traditional bespoke design. We know handmade is irreplaceable and beautiful memories become etched and woven for the next generation.
A look through our Rich history
2006

2006

2012

2011

2015

2016

2017

2017

2017

2018

2018

2019

2019

2019

2021

2021
2006
Lisa Furuland designs first baby lounger/pod for personal use
2006
Sleepyhead brand is introduced with an initial order of 530 units
2012
John Lewis becomes the first major retailer in the UK
2011
Product portfolio expands with launch of larger 'Grand' size pod
2015
DockATot brand launches in selective US markets
2016
First accessories components launch, including toy set and travel bag
2017
Sleepyhead featured in Vogue.com, The Independent, MAde For Mum, Mumsnet
2017
DockATot voted "Most Registered Baby Product" from Babylist
2017
Sleepyhead in first NHS Hospitals and awarded Independent Best Buy
2018
DockATot featured in People, Parents, Pregnancy & Newborn, Vogue.com, Refinery29, US Weekly & New York magazine
2018
DockATot Instagram followers hit 500K and 1M monthly Pinterest users
2019
DockATot is available in over 2,000 stores in the US/Central America
2019
DockATot and Sleepyhead now found in several countries
2021
DockATot launches new home category of products
2021
DockATot merges with Sleepyhead to become one global brand under the DockATot name